Post by harlan on Mar 1, 2017 10:57:29 GMT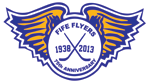 Muir if he is running the club right should jump at this chance to join a league like this.
With the Kestrels.
Now before folk jump up and down this is exactly what the club needs to develop players for the Eilte team. They did it before for a few seasons and guys like Iain Robertson Les Millie Davie Smith all played in the old First Division with Imports like Del Gosse Graham Herring Steve Marr Steve Mackie. I still remember a cracking game against Telford that ended up about 10-9 or something along those lines.
Local club for local guys all right then prove it give them this opportunity.
I did think that this league could be a good opportunity for the Kestrels to join but forgot to put it as an option in my original post.
The financial situation is an awful lot different today than it was for the two seasons Kestrels were in the old First Division and I don't know if there would be the appetite from the Fife public for two teams at these levels now.
If it was the Kestrels joining I would want it to be them and not a regionalised "Super" team with Dundee and Edinburgh players in it, I am not a fan of regionalised teams as I think local people would have an even harder identifying with a team that had players from other clubs on it than they do with an import laden team.
Where would a regionalised team play and train? Who has the say in which players play for it? If for example Dundee only have one player in the team are they going to want to continue making players available and them not get the chance to play?
Also if in that example are any Dundee fans going to travel to Kirkcaldy or Edinburgh to see the team play with only one representative from their club in it? Would they travel to Kirkcaldy or Edinburgh to see that team play anyway no matter how many Dundee players were on it? Likewise Fife and Edinburgh fans, would they travel to Dundee to watch this "Super" team?
If we were thinking of putting the Kestrels in then we have to do the selfish thing and think about it for us and I do think it is a fantastic option for Kestrels